KUNDALINI YOGA TEACHER TRAINING LEVEL 1 at DALGAS YOGA
NEW TRAINING BEGIN AUGUST 2019 - come join us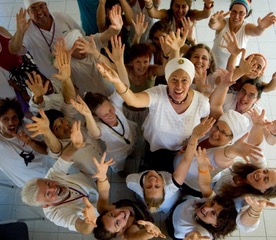 Do you want to be a yoga teacher? Now is your chance - come and join the Kundalini Yoga Teacher Traning program, as taught by YOGI BHAJAN® - starting up late summer 2019, in Copenhagen
THE AQUARIAN TEACHER™ KRI LEVEL 1 PROGRAM in KUNDALINI YOGA
Joining the teachers training gives you the opportunity to learn a technique and acquire skills to transform your own life and to change other people's lives. You receive tools for a physical, mental and an emotional journey. A self-development journey that enables you to subsequently share your experience and skills with others.
"If you want to learn something, read about it. If you want to understand something, write about it. If you want to master something, teach it."
— YOGI BHAJAN
The program is approved by the Yoga Alliance and follows the training Yogi Bhajan has stated as KRI developed and approved.
The program runs over 10 months, 8 modules, a total of more than 300 hours of instruction.
WE BEGIN AUGUST 16TH - 2019
We have collected THE BEST TEACHERS FOR YOU to make sure you get the best possible training and personal experience
Meet the team - and get to know the people behind the teachers training program. We will be there to support and help you through out the training ...